ABOUT THE RACE
The race enjoys a fast, flat course, mainly on the traffic-free seafront promenade from Hythe to Folkestone and back. We expect the race to reach its limit of 800 entries. Don't delay to avoid disappointment. The race will have accurate chip-timing, all runners will receive a medal, and there will various category prizes.
COVID-19 PREPARATIONS
Folkestone Running Club was desperately sorry to cancel last year after 36 continuous years but we are confident that the changes to the race day we have implemented will allow it to go ahead in 2021.
We're learning from other local events which have restarted, and have spent a lot of thought on safety precautions and risk assessments. There will be no mass start, each runner will be allocated a start time. We will maintain social distancing at the start allowing each runner to start individually.
As Kent is currently in Tier 3 Covid restrictions, we can only accept entries from people living in Kent to follow government and England Athletics regulations. We will relax this restriction if conditions allow later.
With microchips timing your exact start and finish time, you will get an accurate result. We will avoid all contact at the start and finish, posting out numbers, chips and start times in advance.
You need to change in your car, we will provide portaloos, you can then warm-up on The Green and approach the start time at your allocated time.
We will not be using the school hall or providing refreshments, and so we do not encourage spectators. Out on the course, there will be overtaking and runners passing in the opposite direction, so we ask everyone to give as wide a berth as possible for this brief time.
At the finish, you will be able to pick up your drink and medal from a collection table and return to your car. Prizes will still be allocated for the various categories, but sent out in the post afterwards.
We also guarantee a refund, should we have to cancel again. If you entered last year and took up the option when it was offered to transfer to 2021, please do not enter again, we will be sending you a separate email.
HOW TO ENTER
The only way to enter the Folkestone 10 Mile race is through this website via our 'Enter Online' page.
ENTRY COST
Affiliated
Club Runners
Unattached
Runners
Early Bird (Until midnight 31st January 2021)
£16.00
£18.00
Online (Until midday 22nd March 2021)
£18.00
£20.00
Race Day – NO ENTRIES
NO ENTRIES
NO ENTRIES
You must be a current paid-up member of a running/athletic club affiliated to England Athletics to pay the affiliated rate. An early Bird discount is in place so don't delay, secure your place!
This website will close for entries at midday on Monday 22nd March, or earlier if the limit of 800 entries is reached. There will be NO entries on the day.

Race Licence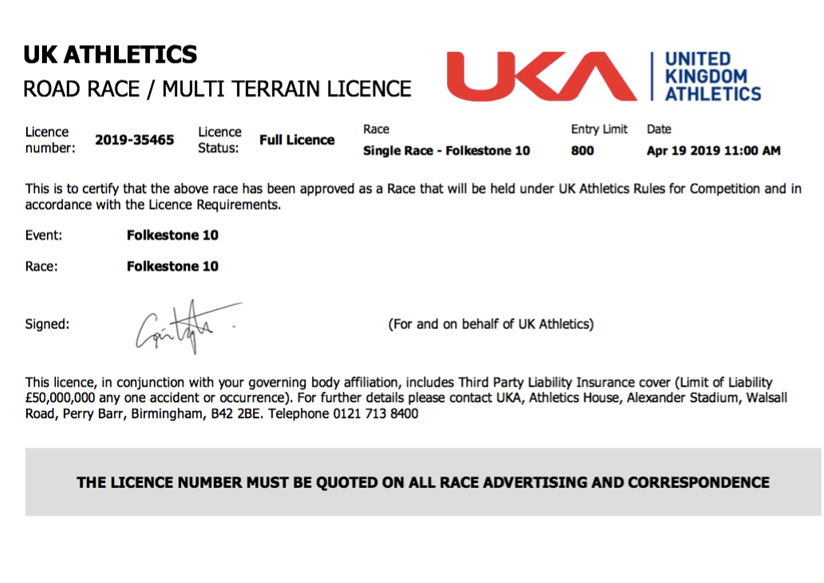 (2021 licence applied for)